And just like that, "Dirty Minds" becomes "This Is Your Brain on Sex"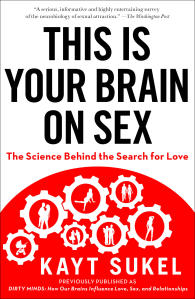 Happy New Year!
You may have noticed a few changes around here.  Welcome to my new website–the guys at Out:think did an amazing job with the design and implementation.  And I'm looking forward to blogging and keeping y'all abreast about what's happening with me.
Of course, that's not the only change.  DIRTY MINDS is being released in paperback by Simon & Schuster on March 26, 2013.  But it will be released with a new title and a whole new look.  I give you THIS IS YOUR BRAIN ON SEX:  THE SCIENCE BEHIND THE SEARCH FOR LOVE.  Pretty spiffy, no?
You can pre-order the paper now.  And make sure to check back on my Speaking page:  there will be a lot of great events coming up in spots like the Woodlands, Des Moines, Houston and Allentown, Pennsylvania.  I hope to see you there!