See you at Cedar Crest College next week!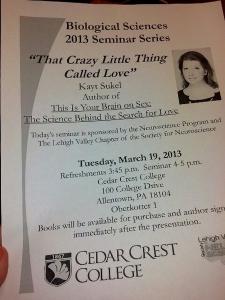 So where will you be next Tuesday, March 19?  Got any big plans.
You'll find me at Cedar Crest College in Allentown, Pennsylvania discussing love, lust and the brain from 4:00pm-5:00pm in Oberkotter 1.
Fun fact about me:  I actually went to elementary school in a town just a few miles away from Allentown.  It will be my first time back in that neck of the woods since, well, I'm not sure I can count back that far.  I am looking forward to seeing how much the area has changed–as well as talking some neuroscience.
If you are in the Allentown area, pop on over.  The event is free and open to the public.
I hope to see you there!  (And if I do see you there, please come over and introduce yourself.  I only bite when asked very, very nicely.  I promise).