JUST YOUR EVERYDAY RISK-TAKER: Celeste Brash and Josh Humbert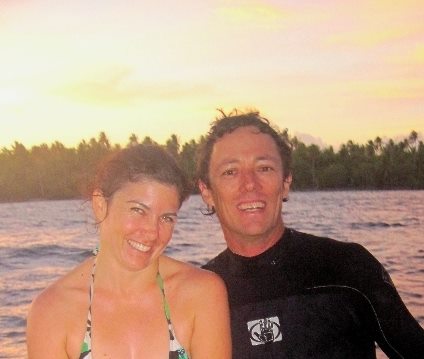 JUST YOUR EVERYDAY RISK-TAKER:  10 April 2015
Name:  Celeste Brash and Josh Humbert
Age:  43 and 44, respectively.  Married for 20 years.
Occupation:  Celeste is a celebrated travel writer—chances are, if you've ever researched travel to Tahiti or Southeast Asia, you've picked up one of her guidebooks.  Josh is an acclaimed photographer who specializes in water action shots as well as a pearl farmer.
Location:  Portland, OR.  (But with a house and pearl farm on Ahe, a coral atoll in French Polynesia).
Q:  Do you guys consider yourselves risk-takers?
Josh:  I don't know.  I suppose we are compared to most people but it doesn't really feel like it.
Celeste:  I don't consider myself a risk-taker.  Living with Josh can make me feel like I'm not a risk taker—and yet, when I hang out with ordinary people, I'm reminded that I do crazier things than the average person.
Q:  What's an ordinary person?
Celeste:  That's a very good question!  I suppose it's someone with a steady job and is sort of going on the regular track in life.  I'm a freelancer—and that, in itself, is risky.  It's risky because you have to live in a state of never really knowing where your money is coming from and when you're going to get it. Having a stable job gives you a different mindset.  And, when I think about it, maybe having that kind of stability makes you less likely to take risks because you have more to lose in a way.
Q:  Josh, you have a lot of risky hobbies—and the shots you take of surfers aren't for the faint of heart either.  How do you decide when something is too risky?
Josh:  With something like spearfishing, in a place where there's predators like sharks, it just comes down to looking at the statistics.  You can get whipped up into a frenzy about how scary something is or you can do the math and rationally decide how risky it actually is.  If you take the time to do the math, I think you come to the realization that things are much less risky than people think they are.
As for the surf photography, I've definitely been hurt before.  But it's an incremental process of learning how to get closer and closer to get that shot.  It's scary as you are learning it—but as you learn, you realize there is more of a margin of safety than you realized.  You can get closer and closer just by taking small steps.
Q:  You are the parents to two teenagers.  What have you tried to teach them about risk-taking?
Josh:  I don't think we ever tried to teach them anything.
Celeste:  They're both really careful.  It's funny—even as little kids, they've always been really cautious.  And, I think, by nature, Josh and I are both cautious people, too.  Maybe that's why we can take risks.
Q:  How do you deal with fear?
Celeste:  I tend to do things that confront my fears.  The scariest thing I've ever done was singing—I had a couple solos—in a music show in front of a couple hundred people.  I've always been afraid of crowds and getting in front of people.  But I've always loved to sing.  But getting up there and singing, for me, was just the most terrifying thing possible.  But once I did it I felt like I could do anything.  It really opened me up to so many things.
Josh:  No one likes to be scared.  Last week, I went diving for a drone that fell into the Willamette River.  The river is really murky.  After 10 feet, there is absolutely no light whatsoever.  I was descending into pitch blackness with just two tiny flashlights—and it was scary at first.  But then I told myself that it was just dark.  It wasn't a big deal—it was like diving at night.  So I kept going and it was actually kind of pleasant.  So I think it's about not being afraid to embrace the fear.
Celeste:  When I first moved to Ahe, I could barely swim.  People think I'm so comfortable in the water and it makes me laugh a little.  Because, when I was younger, I was so scared of the water.  But I confronted my fears and threw myself into swimming and diving.  So I think that Josh is right—when you go against your fears, you can learn how silly they are in a way.  That these things really aren't as scary as you thought they were—and you are much more competent than you thought you were.
You can learn more about Celeste (http://www.celestebrash.com/) and Josh (http://www.joshhumbert.com/) at their respective websites. And you should definitely go look at all the pretty at Kamoka Pearls (http://kamokapearls.com/)–the fruits of their Ahe pearl farm.