JUST YOUR EVERDAY RISK-TAKER: Chet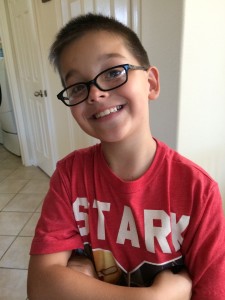 JUST YOUR EVERYDAY RISK-TAKER:  8 May 2015

Name:  Chet (a.k.a, my kid)
Age:  Old Enough to Know Better (Maybe)
Occupation:  Elementary Schooler.  Science Fair Winner.  World Traveler.  Ankle Demolisher.  LEGO Addict.  Avenger-In-Training.
Location:  Texas
Q:  Do you consider yourself a risk-taker?
Chet:  I do.
Q:  Why is that?
Chet:  I went swimming with sharks and did not die.  I didn't even get bitten by a shark.  I've traveled to a lot of different places.  I've gone ziplining and cliff jumping.  I wasn't even born in America.  And when I grow up I want to be a scientist/actor.  But maybe I'll just be a voice actor because being a scientist takes a lot of time.
Q:  Why do you think being a scientist or an actor means you are a risk-taker?
Chet:  Because not many scientists or actors make money.
Q:  Do you think I'm a risk-taker?
Chet:  Yes, I do.  You wrote a book about risk.  And you don't floss as much as you should.
Q:  Last winter, you had a bad accident while sledding.  You ran into a shed and really kind of demolished your ankle.  What advice would you have for people who are thinking about sledding?
Chet:  Plan ahead.  Make sure it is not icy and there are no obstacles in your way, like sheds or birds.  If there are obstacles, don't hit them.  Especially with your ankle.
Q:  Would you go sledding again?
Chet:  No.  Yes.  Maybe.  I don't know.
Q:  What about skiing or ice skating?
Chet:  I'm not really a big fan of winter sports anymore.  Or snow.
Q:  Winter sports, okay.  But you aren't afraid of other pursuits.  You went indoor skydiving recently–and that was after your accident.
Chet:  Yes, but EvanTube did it.  He didn't die and he said it was fun.  And, Evan, if you are reading this, I hope to see you at the Toy Fair!
Q:  So how do you know when it's a good idea to take a risk or not?
Chet:  I think you have to consider injury, puberty and death as you make your decision.
Q:  Puberty?
Chet:  Yes.  I want to grow up, after all!  And you can't grow up without going through puberty, Mom.  You are a science author.  You should know that.