The first review is in!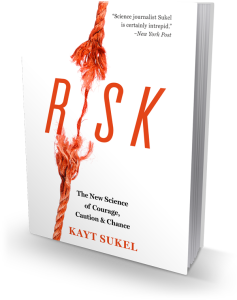 Kirkus Reviews just published its review of THE ART OF RISK.  The reviewer was kind enough to call me a "blithe and personable guide to risk-taking, sharing her own experiences and getting research scientists to open up about their findings." (I choose to take the complimentary definition of blithe).  And it was also said that the book is an "enjoyable tour" of the science.
But that's not the only take on the book.  Todd B. Kashdan, author of of THE UPSIDE OF YOUR DARK SIDE:  WHY BEING YOUR WHOLE SELF – NOT JUST YOUR "GOOD" SELF – DRIVES SUCCESS AND FULFILLMENT, called the book a "road map for understanding boldness."  And what's not to love about that?
Only 50 days until publication.  But you can pre-order THE ART OF RISK today if you like.  I won't stop you.